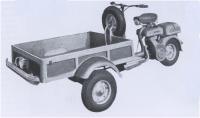 Low sided box, helped ease loading/unloading.
Innocenti had a six month break with producing three wheeled scooters, this allowed them time to sell off the stock of remaining FB models they still had. When the FC came along it used the newer mechanicals from the C & LC scooters, whilst many of the components were improved over the old FB, top speed did not really increase
The general structure and layout of the FC stayed the same as the FB, although a new hydraulic braking system help matters when trying to stop. The rear part of the three wheeler was borrowed from the C model, whilst the running gear and cowlings were taken from the LC.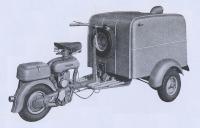 Notice the headlight has been moved on this ali boxed model.
Three versions of box were offered on the FC as with the FB, but you could also purchase the scooter as a chassis only option. Wooden box, aluminium compartment, or an open wooden box, although the single headlight at the front had now been moved to the top of the box, to stop it getting broken while parking as with the earlier models.
The 125cc engine toped out at a maximum speed of just over 30mph (45kmh) and could cope with loads of up to 200kg, while ideal load carrying over distances, the small "van" was just enough around town,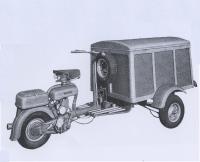 One of the three options that were available was this wooden box which opened from the top.
Wheel size was increased to 4 inches, to aid and improve stability, but even this model of three wheeled Lambretta did not sell as well as Lambretta had hoped for.
Even though the price was well below any competition Innocenti had with this three wheeler, and reliabilty had already got a good name from the A series of scooter, after just under a year of production only 2,000 units had been sold, less then Lambretta had hoped for.
125 FC

Produced :
November 1950 - October 1952
Italian production :
3001
Engine Size :
123cc
Bore / Stroke
52 x 58mm
Carburettor
Dell'orto MA16
Gears
Three speed
Horsepower
4.3hp @ 4,400rpm
Maximum speed
45kph / 28mph
Tyre size
4.00 x 8
Fuel consumption
35kpl / 98mpg
Weight
140kg / 308.64lb
Colours
Grey, Green, Blue
Price
Not known