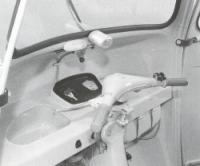 Finding and buying parts for Lambros can be quite hard at "lambretta dealers" as only a handful of shops actually stock parts for these machines. As well as the shops listed on this page, also have a look at the Lambro owners page as many of the owners also have parts to sell or swap.
Of the shops listed, I have visited most of them and been allowed to browse their Lambro selection. So although each shop I have listed what they stock, it is by no means a complete list of what each shop has.




---
Weston Scooter Parts
Web site

Nigel who ownsa and run Weston Scooter Parts probably has one of the largest stocks of original Innocenti parts in the UK. Although I have visited Nigel a few times, I have never been to specifically look at the Lambro parts he has. Nigel by his own reconning has quite a few parts for most models, from the FB to the last 600. Parts include brakes, lights, mechanical parts, and much more.

---
Scooter Restorations
Web site

After a recent visit to Paul at Scooter Restorations, is was quite surprising the amount of spares Paul has for the Lambros. After Paul pulling out box after box of Lambro spares, we found many of the parts fitted the later models. Many are still in original Innocenti packaging, and so still contain the Innocenti part numbers.
In no particular order, the parts include door handles, door locking mechanisms, door check straps, fork links, brake shoes, wheel cylinders, hard to find wheel nuts. Loads of rear axle parts, including bevel gears, complete bevel housing and gear set, drive shafts. Pulleys for the dynamos, brake arms, reverse gear control housings and levers. Internal engine parts, include rear sprockets, reverse gear parts, cable housings, layshafts, kick start gears. Paul also has a large selection of kick start rubbers, cable gaitors, drive shaft joints, drive shaft couplings, fork bearing tracks, as well as the specific fork bearings, whcih are different to the two wheeled version. Finally from memory, Paul also has some late model complete dash boards with 0 miles, FD speedos, friction pads for the steering dampers, half a hundred weight of fork gear link levers, FD front hub back plate, and even one drop side from the later pick up bed. Give Paul a try if you need any mechanical part for your Lambro, as if Paul does not have it in stock, and if you are prepared to wait a small amount of time, almost all parts for the later machines can be obtained for the later models.
---
Cambridge Lambretta Workshops
Web site

Cambridge Lambretta carry a handful of parts of mainly the earlier FLi series. Ignition and light switches, clutch and cylinders. NO other parts are stocked.
---

Please help me, I will happily visit any dealer with stocks of Lambretta parts. You are also more then welcome to send in your own write ups on any scooter shop that sells any Lambro parts. Help us to help others!